Hosted by Josh Thanos and a roundtable of WatchBox client advisors and friends, The Trading Desk is a balance of news, collecting behaviors, quirks and insight, market analysis, and a genuine love for watches. Catch new episodes each week, and for more WatchBox content, check out @watchbox on Instagram and @watchboxstudios on YouTube.
Episodes
Tuesday Oct 19, 2021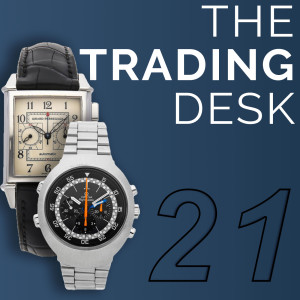 Friday Oct 05, 2018
Friday Oct 05, 2018
Josh and Jason are back and this week they're taking aim at the vintage watch world. They're highlighting some of their favorite pieces from times long ago with both "This or That" and "Buy/Sell/Trade." In the first segment, Josh pits his champion of the Girard-Perregaux Vintage 1945 Chronographe (25990.1.11.8186) vs. Jason's choice of the Omega Vintage Seamaster 1971 Flightmaster (ST145.0026). Then, they're deciding what pieces they would buy, sell, or trade out of the Omega Vintage Speedmaster Mark II (145.0014), the Patek Philippe Nautilus (3800/001), and the Rolex GMT-Master "Pepsi" (16750). You won't to miss this "vintage" episode of The Trading Desk!
Check out this podcast as a video: https://youtu.be/TjOca8Pjrp4 
Buy, Sell, or Trade luxury watches with Jason and Josh: www.thewatchbox.com
Shop Pre-Owned Omega: https://www.thewatchbox.com/watches/omega/