Hosted by Josh Thanos and a roundtable of WatchBox client advisors and friends, The Trading Desk is a balance of news, collecting behaviors, quirks and insight, market analysis, and a genuine love for watches. Catch new episodes each week, and for more WatchBox content, check out @watchbox on Instagram and @watchboxstudios on YouTube.
Episodes
Tuesday Oct 19, 2021
Thursday May 16, 2019
Thursday May 16, 2019
Some watches are selling for way higher than their retail value on the pre-owned market, so what's someone to do if they're interested in one of these hot pieces but don't want to spend a fortune? Well luckily for everyone, the world of watches is a big one and there's alternatives for a ton of the most popular watches.
Josh is joined by Israel Colon, director of operations, to discuss the topic of alternate watches for popular models. Whether it's a Patek Philippe Chronograph 5070G, the Nautilus 5711, or F.P. Journe, there's comparable watches from brands like H. Moser & Cie and Vacheron Constantin to call upon. And who best to know what watches and where to look than 2 members of our sales team! So tune in and see if anything peaks your interest!
Check out this podcast as a video: https://youtu.be/O8T2fDzrNFI 
Buy, Sell, and Trade watches with Josh: www.thewatchbox.com 
Shop Pre-Owned Patek Philippe: https://www.thewatchbox.com/watches/patek-philippe/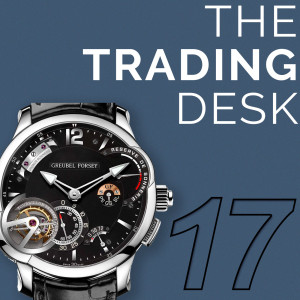 Friday Sep 07, 2018
Friday Sep 07, 2018
Josh and Jason are gone so Jon, CQ, and Jay are all sitting down to discuss the upcoming Grand Prix D'Horlogerie De Geneve categories, nominees, and predictions! They're going to weigh in with their opinions on which brands like Ulysse Nardin, Vacheron Constantin, TAG Heuer, De Bethune, and others deserve to win awards and why. You don't want to miss this!
Check out this podcast as a video: https://youtu.be/HhPcXK__r3Q 
Buy, Sell, or Trade luxury watches with C'Q, Jon,and Jay: www.thewatchbox.com
Shop Pre-Owned Ulysse Nardin: https://www.thewatchbox.com/watches/ulysse-nardin/