Hosted by Josh Thanos and a roundtable of WatchBox client advisors and friends, The Trading Desk is a balance of news, collecting behaviors, quirks and insight, market analysis, and a genuine love for watches. Catch new episodes each week, and for more WatchBox content, check out @watchbox on Instagram and @watchboxstudios on YouTube.
Episodes
Tuesday Oct 19, 2021
Thursday Feb 14, 2019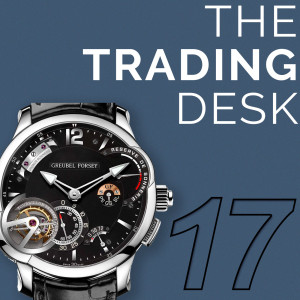 Friday Sep 07, 2018
Friday Sep 07, 2018
Josh and Jason are gone so Jon, CQ, and Jay are all sitting down to discuss the upcoming Grand Prix D'Horlogerie De Geneve categories, nominees, and predictions! They're going to weigh in with their opinions on which brands like Ulysse Nardin, Vacheron Constantin, TAG Heuer, De Bethune, and others deserve to win awards and why. You don't want to miss this!
Check out this podcast as a video: https://youtu.be/HhPcXK__r3Q 
Buy, Sell, or Trade luxury watches with C'Q, Jon,and Jay: www.thewatchbox.com
Shop Pre-Owned Ulysse Nardin: https://www.thewatchbox.com/watches/ulysse-nardin/