Hosted by Josh Thanos and a roundtable of WatchBox client advisors and friends, The Trading Desk is a balance of news, collecting behaviors, quirks and insight, market analysis, and a genuine love for watches. Catch new episodes each week, and for more WatchBox content, check out @watchbox on Instagram and @watchboxstudios on YouTube.
Episodes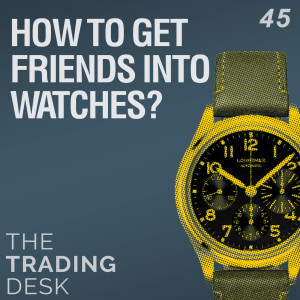 Thursday Apr 18, 2019
Thursday Apr 18, 2019
Do you love watches but have friends who are more unsure of the hobby? Perhaps you've been trying to figure out how best to introduce them into the world of watches we all love? Where Jason and Josh are here to try and help you convince them! With timepieces from brands like Oris and TAG Heuer, the duo will explore entry-level watches and how their appeal could help you convert a few more people to the industry!
Win a Rolex Milgauss 116400GV: http://swee.ps/jdjOtseVX 
Check out this podcast as a video: https://youtu.be/74-uZ3obrTI 
Buy, Sell, and Trade luxury watches with Jason and Josh: www.thewatchbox.com 
Shop Pre-Owned Longines: https://www.thewatchbox.com/watches/longines/